Belgium in the UN Security Council 2019-2020 Webinar 1: Multilateralism and the Security Council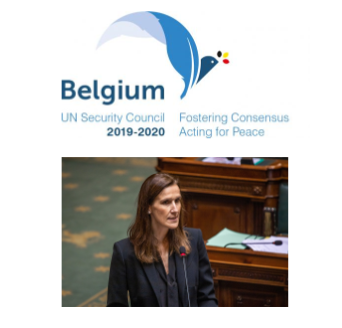 Every year the FPS Foreign Affairs, the Egmont Institute, the Catholic University of Louvain-la-Neuve, and Ghent University, organise a conference on Belgian foreign and defence policy that looks back at the key developments, and looks ahead at future challenges and ambitions. Because of the pandemic, the edition 2020 will take place by way of a series of three webinars.
At the moment when Belgium will be near the end of its two-year membership of the UN Security Council, these webinars will take stock of achievements, identify lessons to be learned, and formulate new ambitions.
Webinar 1 will start with a keynote speech by Foreign Minister Sophie Wilmès. A panel will then look at the Security Council and the multilateral system in general: How has the role of the Council changed since Belgium was last elected? Which role can the Council play in a world marked by increasing great power rivalry? How can effective multilateralism be safeguarded, and how can Belgium in particular contribute, together with like-minded countries such as Germany, with which it entered the Security Council in 2019?
Programme
Keynote Speech by Foreign Minister Sophie Wilmès
Chair: Prof. Dr. Sven Biscop, Egmont & Universiteit Gent
Susanne Baumann, Director-General for International Order, the United Nations and Arms Control, Federal Foreign Office, Germany
Prof. Dr. David Criekemans, Universiteit Antwerpen
Axel Kenes, Director-General for Multilateral Affairs and Globalisation, Belgian Foreign Affair
Prof. Dr. Michel Liégeois, Université Catholique de Louvain-la-Neuve
The working language will be English.
(Photo credit: Wikipedia)