Belgium in the UN Security Council 2019-2020 Webinar 2: The Security Situation in the Sahel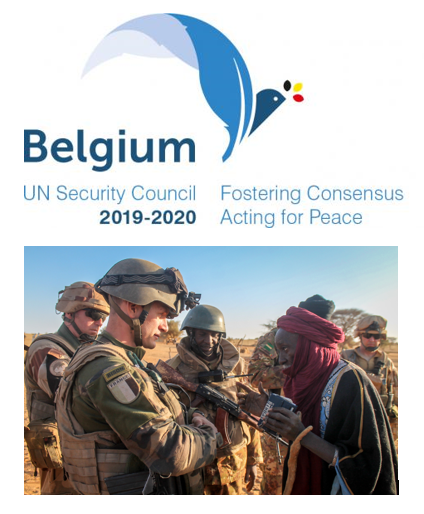 Every year the FPS Foreign Affairs, the Egmont Institute, the Catholic University of Louvain-la-Neuve, and Ghent University, organise a conference on Belgian foreign and defence policy that looks back at the key developments, and looks ahead at future challenges and ambitions. Because of the pandemic, the edition 2020 will take place by way of a series of three webinars.
At the moment when Belgium will be near the end of its two-year membership of the UN Security Council, these webinars will take stock of achievements, identify lessons to be learned, and formulate new ambitions.
Webinar 2 will address the security situation in the Sahel and look at stabilising efforts and the implementation of a "comprehensive approach" by different actors, including multilateral actors, such as the UN and the EU; regional coalitions like the G5 Sahel Joint Force and the Multinational Joint Task Force (MNJTF) and individual states. Why does the security situation continue to deteriorate, in spite of the multiple efforts to stabilize the region? What role can, and should, Belgium play in the region? Should Belgium prioritize support to multilateral efforts such as the EUTM, MINUSMA and EUCAP Sahel, or should it rather increase its bilateral involvement, exemplified in the security force assistance mission in Niger: Operation New Nero?
Programme
Chair: Prof. Dr. Nina Wilén, Egmont & Université Libre de Bruxelles
Anick Van Calster, Director-General for Multilateral Affairs, Belgian Foreign Affairs
Jean-Pierre Deconinck, General ,former commander of MINUSMA
Delina Goxho, Independent Security analyst Open Society Foundation
Andrew Lebovich, Policy Fellow, European Council on Foreign Relations
The working language will be English.
(Photo credit: Wikipedia)