Conference by His Royal Highness Prince Faisal bin Farhan Al Saud, Minister of Foreign Affairs of the Kingdom of Saudi Arabia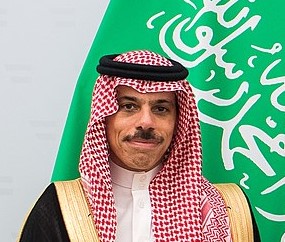 Date
14 February 2023
Time
12:00-13:30
Location
Club Prince Albert, Karmeliet room, rue des Petits Carmes 20, B-1000 Brussels
Organisation
The Egmont Institute
On the occasion of his official visit to Brussels, High Royal Highness Prince Faisal bin Farhan Al Saud, Minister of Foreign Affairs of the Kingdom of Saudi Arabia, will give a presentation on Saudi Arabia's 'Vision 2030' reform plans, as well as on recent developments in the Middle East, Saudi Arabia's relations with Russia and China, the impact of the war in Ukraine on the energy market, and relations between the EU and the Gulf Cooperation Council.
The meeting will be chaired by Mr Pol De Witte, Director General of the Egmont Institute.
The presentation will be followed by Qs and As. Moderator: Mr Marc Otte.
Language: English.
(Photo credit : wikipedia)