Conference "Schengen: Quo vadis?"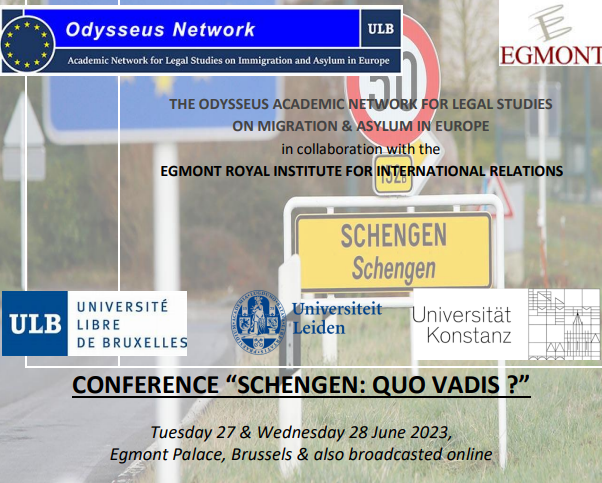 Date
27 June 2023 - 28 June 2023
Time
08:45-17:00
Location
Hybrid: Europe room of Egmont Palace, Entrance: Rue des Petits Carmes 24B, B-1000 Brussels and online
Organisation
The Odysseus Academic Network for Legal Studies on Migration and Asylum in Europe and the Egmont Institute
The Odysseus Academic Network organises with the Universities of Leiden, Konstanz and Brussels a Conference «Schengen: Quo Vadis?» on Tuesday 27 and Wednesday 28 June 2023 in Brussels.

This conference will examine the issues at the core of the current debates about Schengen like the balance between solidarity & responsibility between States in liaison with secondary movements of asylum seekers, the persistence of controls at Schengen internal borders, the way to monitor human rights at the external borders, the increasing recourse to large-scale databases,…

The conference will also go back to the foundations of Schengen that have been largely ignored while they belong to the most complex legal issues: What is exactly the scope of the Schengen acquis defining to which countries it applies among EU and associated States and on the basis of which criteria? What are precisely the conditions that a State must fulfil for the enlargement of the Schengen area? What are the links with the Dublin system that is formally not part of the Schengen acquis?

The conference will analyse all these issues from a legal point of view and interest policy makers, EU & Member or Associated States officials, NGO representatives, academics, lawyers, judges, border guards, PhD students, researchers, etc and provide them with the state-of-the-art from a theoretical but also practical point of view.

The conference is part of the broader «Schengen Project» launched by the Odysseus Network. Its proceedings will be published in 2024 in a book that will fill the existing gap in the limited literature devoted to Schengen as there is currently and curiously no synthesis available about Schengen.

Book the dates in your agenda and register by clicking here!

We hope to welcome you in Brussels!
Click here for the detailed program