Democratic deadlock and security concerns in DRCongo. Where to now for the European Union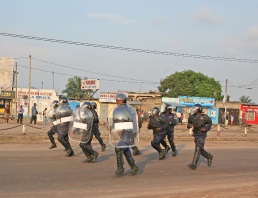 Location
Arenberg Room, Egmont Palace, 8bis Place du Petit Sablon, 1000 Brussels
In the current pre-electoral deadlock, political and security tensions are on the rise in the Democratic Republic of the Congo (DRC). Worrying attempts to undermine democratic change, shrinking democratic space and a dramatic increase in human rights violations pose an acute threat to a credible and peaceful transfer of power in the country. This public conference will discuss the current situation on the ground and explore the role and responsibility of the EU in supporting a credible democratic process and helping prevent an escalation of violence and abuse in the DRC.
Speakers:
Koen Vervaeke, European External Action Service (EEAS) – tbc
Renier Nijskens, Belgian Special Envoy for the Great Lakes region
José Maria Aranaz – United Nations Office of the High Commissioner on Human Rights & UN Joint Human Rights Office in the DRC
Abbé Donatien Nshole, Conférence Episcopale Nationale du Congo (CENCO)
Bob Ngutu, Bureau De Formation Et De Recherches pour un Développement Intégré (BUFORDI)
Click here for the invitation.

(Photo credit: Giampaolo Musumeci)