Economic Security in a Changing World: Prospects for Europe-Japan Cooperation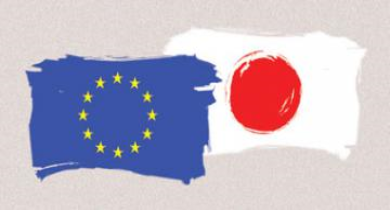 Watch the recording of the webinar on Youtube
The responsibility to provide for the national security and economic well-being of citizens constitutes the foundation of legitimate and effective government. In today's increasingly contested international environment, the concept of 'economic security' is making headway. As trade and economic policies are being instrumentalized in the pursuit of geopolitical advantage, a broad understanding of national security needs to include the security of the economic supply chain, the integrity of the technological and innovation potential resident within a society, and even scientific and academic education. With an ambitious legislative agenda relating to economic security, Japan is pursuing an in-depth policy overhaul that straddles the security and economic domains. What is the reasoning that underlying Japan's thinking on economic security? How does it affect the key trading relationships it has built, such as the one with the European Union? And what can Europe and Japan learn from each other's experiences when confronted with similar geo-economic challenges?
Programme      
09h30
Introductory remarks by professor Alexander Mattelaer, Egmont Senior Research Fellow and Vice-Dean Brussels School of Governance
09h35
Presentation by Professor Atsushi Sunami, Sasakawa Peace Foundation and National Graduate Institute for Policy Studies
10h00
Panel discussion featuring
Professor Cind Du Bois, Belgian Royal Military Academy
Tobias Gehrke, Egmont Research Fellow on economic statecraft
10h15
Q&A and debate with the audience
10h55
Concluding remarks by professor Alexander Mattelaer
11h00  END
About the speakers
Professor Atsushi Sunami is the President of Sasakawa Peace Foundation, and Adjunct Professor,  Executive Advisor to the President, and Director of the Science for RE-designing Science, Technology and Innovation Policy (SciREX) Center at National Graduate Institute for Policy Studies, Japan. He holds a BSFS from Georgetown University and obtained MIA and PhD degrees in Political Science from Columbia University. Before joining GRIPS, he was a Fellow at Research Institute of Economy, Trade and Industry established by the Ministry of Economy, Trade and Industry, Japan between 2001 and 2003. He also worked as a researcher in the Department of Policy Research at Nomura Research Institute, Ltd. from 1989 to 1991. He was a visiting researcher at Science Policy Research Unit, University of Sussex, and Tsinghua University, China. He is a member of the expert panel for the development of economic security legislation of the Cabinet Secretariat of Japan. He served as Special Advisor, Cabinet Office responsible for Science and Technology and Innovation from 2015 to 2018.
Cind Du Bois is Professor at the Royal Military Academy where she presides the chair of Economics. She holds a master (University of Antwerp) and a PhD in applied economics (Free University of Brussels) as well as a certificate of higher education in Terrorism and Radicalization (University of Liège). As an external research fellow, she is also affiliated to the independent think-thank Itinera. Her research domain covers different aspects of Defense Economics such as the backlash effect of military action, the economics of terrorism, burden sharing in military deployment and different aspects of economic security. She acts as a scientific advisor for the Platform of Scientific Economic Potential under the auspices of Belgium's National Security Council and is member of the Academic think thank Platform on National Security as well as of the strategic committee of the Minister of Defence.
Tobias Gehrke is a Research Fellow in the Europe in the World Programme at the Egmont Institute where he researches geoeconomics, economic security, and economic statecraft with particular focus on the European Union relations with China and the United States. To this end, he contributed to several international research and advisory projects for EU institutions and member states. Tobias was a Visiting Fellow at the National University of Singapore, Nottingham University, and at the American Institute for Contemporary German Studies at Johns Hopkins University in Washington D.C. He also gained experience at the EU Commission's DG Trade and the German Council on Foreign Relations in Berlin. He will complete a PhD as part of the (concluded) EU Horizon 2020 Marie Curie research project "EU Trade & Investment Policy" (EUTIP) at Ghent University in 2022.
Please note that this Egmont webinar is held on the record and a videorecording can be made available in the public domain.
(Photo credit: European Commission)