ICCT and Egmont Institute Live Briefing: Gender and far-right ideology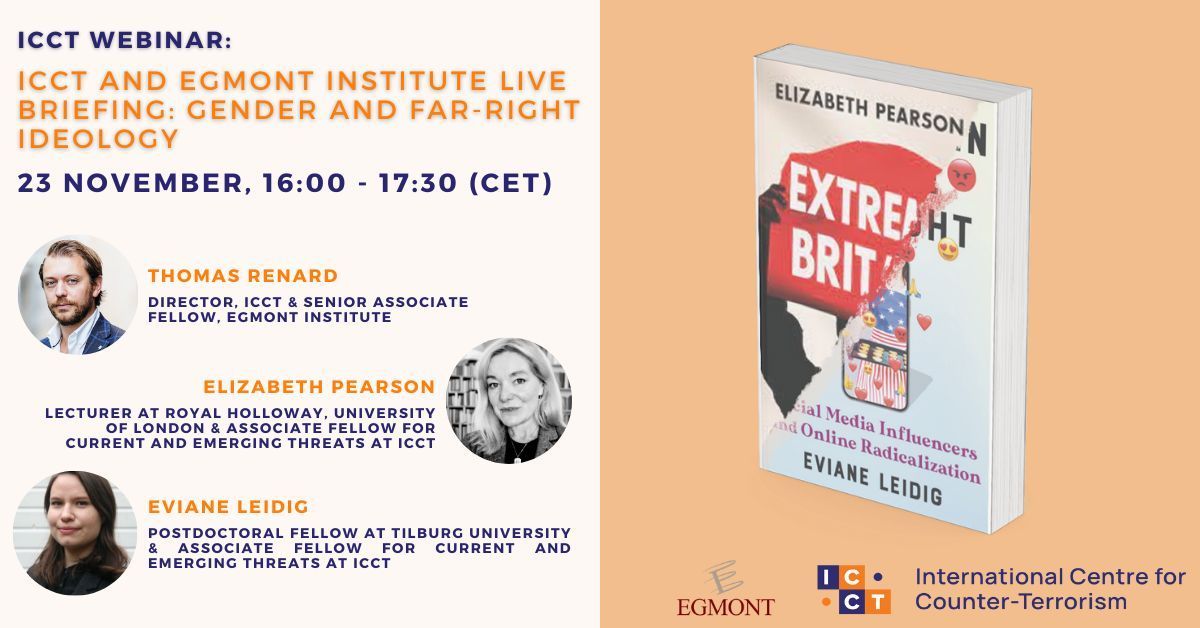 Date
23 November 2023
Time
16:00-17:30
Type of Event
Live Briefing
Organisation
ICCT and Egmont Institute
On Thursday, 23rd November, 2023, 16:00-17:30, the International Centre for Counter-Terrorism (ICCT) and the Egmont Institute will host a joint Live Briefing on "Gender and far-right ideology".
Two keynote speakers, Dr. Eviane Leidig and Dr. Elizabeth Pearson will compare the role of gender in recruitment and radicalisation narratives of extremist activism, including concepts of femininity and masculinity, misogyny, and patriarchy as integral to the ideological worldview and mobilisation of these activists.
Dr. Eviane Leidig recently published the book The Women of the Far Right: Social Media Influencers and Online Radicalization (Columbia University Press, 2023). An in-depth look into the world of far-right women influencers, exploring the digital lives they cultivate as they seek new recruits for white nationalism.
While Dr. Elizabeth Pearson's book Extreme Britain: Gender, Masculinity, and Radicalisation (Hurst/Oxford University Press, 2023) is published in December. Drawing on interviews with extremists, this timely study explores the relationship between gendered culture and political radicalism, with a focus on Britain
The Women of the Far Right and Extreme Britain offer insights into how men and women become involved in extreme movements and the consequent implications of featuring gender within de-radicalisation efforts and countering extremism interventions.
Moderator
Thomas Renard, Director ICCT and Senior Associate Fellow at the Egmont Institute
Speakers
Eviane Leidig, Marie Sk?odowska-Curie postdoctoral fellow at Tilburg University. She is an ICCT Associate Fellow and former Research Fellow in the Current and Emerging Threats programme. She is also affiliated with the Center for Research on Extremism at the University of Oslo, and the Global Network on Extremism and Technology in London. Eviane is the author of the book The Women of the Far Right, recently published by Columbia University Press.
Elizabeth Pearson, lecturer at Royal Holloway, University of London, where she leads the Master's programme in terrorism and counter-terrorism studies. She is an Associate Fellow at ICCT, and a member of the Editorial Board at Perspectives on Terrorism. Her research centres on gender, extremism and countering extremism and her new book, Extreme Britain: Gender, Masculinity and Radicalisation was recently published with Hurst and Oxford University Press.