Geopolitieke kanttekeningen 2011-2018, en daarna. Een wereld in volle geopolitieke transitie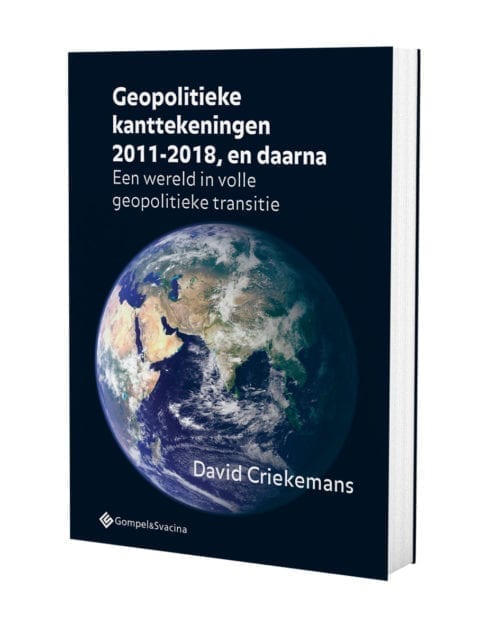 Location
Egmont Palace, 1000 Brussels
Book launch (in Dutch) with Prof. dr. David Criekemans, Senior Associate Fellow, Egmont Institute and Associate Professor in 'International Relations', University of Antwerp.
In de periode 2011-2018 werd onze wereld aan een grondige geopolitieke transformatie onderworpen. Voor Europa lijkt het wel of alle zekerheden op het vlak van veiligheid, economie en ecologie onderuit werden gehaald. Het partnerschap met de Verenigde Staten is sterk onder druk komen te staan sinds president Trump, de relaties met Rusland verslechterden door de crises in Oekraïne en Syrië, in het Midden-Oosten ontaardde de 'Arabische Lente' in burgeroorlogen en regionale oorlogen in Libië, Syrië en Jemen en is een machtsstrijd gaande tussen soennieten en sjiieten.
Tegelijkertijd is het oude economische model op basis van fossiele brandstoffen aan zijn laatste decennia begonnen en werd hernieuwbare energie op sommige domeinen concurrentieel. Het westerse model van 'democratie' en 'vrijheid' kwam zelf onder druk, omdat het te veel op een neoliberale leest geschoeid was, en tegenreacties vanuit de bredere maatschappij brachten Trump en Brexit. China promoot dan weer een alternatief model. Zo ontstaat onder andere via het 'One Belt, One Road'-initiatief een nieuwe race om Eurazië.
De auteur wil doorheen al deze verwarring duidelijkheid brengen. Er breekt voor Europa een nieuwe periode aan. Brussel kan het zich in het buitenlands beleid niet langer veroorloven om in exclusieven met de Verenigde Staten te denken. In de nieuwe geopolitiek-multipolaire wereld moet Brussel een balanspolitiek met alle 'polen' voeren: Washington, Moskou, Beijing, Tokio, Londen,… Met een scherpe geopolitieke analyse bespreekt prof. Criekemans de gevaren en kansen.