A flavour of indirect elections to the European parliament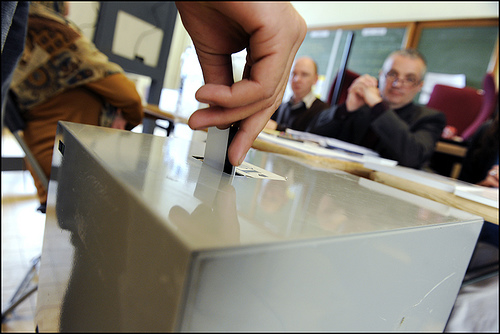 In this commentary, Xavier Vanden Bosch shows that European elections in the French-speaking part of Belgium have a flavour of indirect voting. Political stakes are low for political parties, and voters have little say in the choice of their candidates to the European Parliament. Rather than overtly focusing on individual electoral rules governing the European elections, a solution could come from the introduction of a European constituency. This would stimulate a truly European debate, raise the stakes and offer a wider choice of candidates for citizens.
Originally published in l'Echo (French)
(Photo credit: European Parliament, Pietro Naj-Oleari)
 *****
Les élections européennes : un air d'élection indirecte
Quel est le point commun entre l'amertume d'Anne Delvaux, la colère de Véronique De Keyser, la déception d'Isabelle Durant et la résignation de Frédéric Daerden ? Ces député européens – la moitité du contingent belge francophone actuel – ne figureront pas sur les listes européennes et quitteront le Parlement européen suite aux élections du 25 mai. « Est-ce que l'humain c'est un pion ? » s'insurge Anne Delvaux, qui exigeait du CDH la tête de liste pour l'Europe. Similairement ecartée par le PS, Véronique De Keyser estime avoir été « jetée comme un chien ». Plus conciliant, Frédéric Daerden s'est soumis aux volontés de son parti: récolter des voix à Liège pour l'élection fédérale. Finalement, bien que plus démocratique, le vote des militants Ecolo en faveur de Philippe Lamberts au détriment d'Isabelle Durant, aura aussi été à la source de tensions.
Le manque d'enjeux et de compétition électorale
Les bonnes places sur les listes électorales européennes sont chères. Il y a peu de sièges à pourvoir, seulement huit pour le collège électoral francophone. Les élections européennes sont d'importance secondaire par rapport aux élections fédérale et régionales que la sixième réforme de l'Etat rend désormais concomitantes. Le résultat du scrutin européen reflètera largement les résultats des élections « nationales » et leurs enjeux propres.
Ensuite, bien qu'il soit possible pour l'électeur de voter directement pour un candidat, les candidats les mieux placés bénéficient de la dévolution de la moitié des votes exprimés pour la liste. Avec peu de sièges à attribuer à chaque liste, il est extrêmement difficile de bousculer l'ordre établi par les partis. En 2009, Frédéric Daerden était le seul à y être parvenu en Belgique, en s'emparant du troisième siège attribué au PS grâce à des votes de préférences acquis en majorité en province de Liège.
Ce peu de compétition permet de prédire assez précisémment les futurs élus sur base des sondages. Dans l'ordre d'attribution des sièges francophones, il s'agira de Marie Arena (tête de liste PS), Louis Michel (tête de liste MR), Marc Tarabella (2ième sur liste PS), Claude Rolin (tête de liste CDH), Philippe Lamberts (tête de liste Ecolo), Frédérique Ries (2ième sur liste MR) et Hugues Bayet (3ième sur liste PS). La seule relative inconnue du scrutin concerne le huitième siège, qui devrait revenir à Gérard Deprez (3ième sur liste MR), sauf surprise venant de la gauche (le siège irait alors soit au PS (Clio Brzakala) ou au PTB (Aurélie Decoene)).
Un air d'élection indirecte
Si peu d'enjeux et tant de certitudes posent naturellement question. Le manque d'enjeu électoral au niveau national constitue un contraste flagrant avec l'importance des défis politiques européens. L'élection de nos parlementaires européens ne ressemble-t-elle pas à s'y méprendre à une élection indirecte ? Si les élus étaient désignés par la Chambre des représentants sur base du scrutin fédéral, le résultat serait in fine le même, et pas moins légitime. Le système actuel qui s'apparente en pratique à des élections indirectes ne stimule certainement pas l'intérêt des citoyens pour les enjeux européens, ni leur compréhension et confiance dans les institutions européennes. En témoigne l'ignorance des électeurs belges: d'après un sondage, près de la moitié (45%) des Belges ignore que le Parlement européen est directement élu, ce malgré le vote obligatoire[i].
Vers une réforme du scrutin européen ?
Pour autant, on aurait tort de croire que le problème est propre à la Belgique, ou à sa prétendue « particratie » néfaste. Tout système électoral suppose un équilibre entre le pouvoir des électeurs à choisir leur représentants et le contrôle des listes par les partis. Le système éléctoral belge est en réalité relativement ouvert. Dans huit pays européens dont la France, le Royaume-Uni, l'Allemagne et l'Espagne – les listes électorales sont « fermées » : l'électeur ne peut pas voter directement pour un candidat. Mais rien n'empêche à l'avenir que la Belgique donne plus de poids à l'électeur en « ouvrant » davantage ses listes européennes.
Au-delà des rééquilibrages possibles au sein des systèmes électoraux nationaux, le véritable changement devrait passer par une refonte globale de l'élection du Parlement européen. Une multitude de partis politiques concourrent en Europe au sein de 52 circonscriptions différentes régies par 28 codes électoraux et autant d'enjeux purement nationaux. Ce morcellement empêche les électeurs de voter pour de véritables partis européens défendant un projet pan-européen. Pour y remédier, il faudrait envisager la création d'une circonscription transnationale correspondant à l'ensemble du territoire européen. Cela donnerait une vraie allure européenne aux débats, dynamiserait les enjeux électoraux et offrirait aux électeurs un choix plus varié de candidats. A défaut et pour l'heure, on devra se contenter d'un système suscitant peu l'implication des électeurs et source de quelques déceptions parfois amères comme on a pu le voir récemment.