Hopefully Eurosceptics will work hard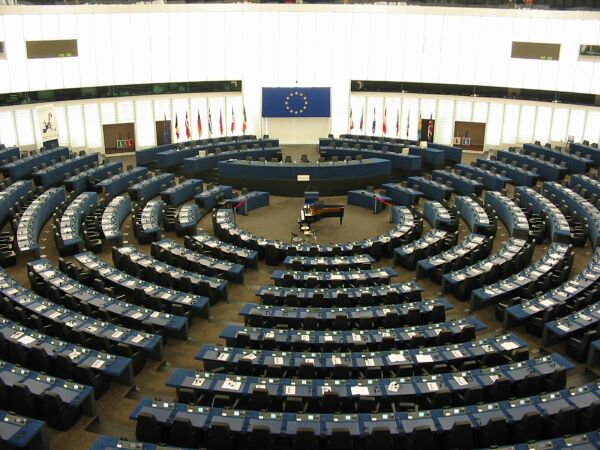 What the polls already indicated long in advance has turned out to become reality: the number of eursceptic MEPs has grown significantly following the European elections. While this rise of eurosceptics might complicate the functioning of the European Parliament, it should not be seen as an exclusively bad change. In particular, it allows the European Parliament to be a better reflection of the various views of European citizens. The latter is essential if the European democracy is to succeed.
Published in De Redactie.be, 27 May 2014.
(Photo credit: Wikimedia Commons)
 *****
Wat de peilingen al lang voorspelden is waarheid geworden: het aantal Europarlementsleden dat zich afkeert van het Europees project is sterk toegenomen. In Frankrijk is het Front National de grootste partij geworden, in het Verenigd Koninkrijk steekt de UK Independence Party er met kop en schouders bovenuit en ook in Griekenland en Denemarken wisten eurosceptische partijen de meeste kiezers te overtuigen.
In vele andere landen hebben de eurosceptici eveneens aanzienlijke scores behaald, zo stemde ongeveer één op vijf Italianen voor de Vijfsterren-protestbeweging van Beppe Grillo. Elders deden de eurosceptische partijen het soms dan weer minder goed, zoals in België en Nederland.
De toegenomen rol van Eurosceptici
Het is nog te vroeg om te bepalen hoe sterk de rol van de eurosceptici zal zijn in het nieuw verkozen Europees Parlement. Het blijft in het bijzonder onzeker of extreemrechts zich in een gemeenschappelijke fractie zal kunnen verenigen. Wat wel al vaststaat, is dat de eurosceptici een luidere stem zullen hebben in de Europese Unie dan ooit tevoren het geval was.
Vormt die toename van eurosceptische parlementsleden echter noodzakelijk een probleem? Voor pro-Europeanen lijkt dit op het eerste gezicht niet welgekomen. De evolutie zal het functioneren van het Europees Parlement immers bemoeilijken. Het zal lastiger worden voor de traditionele Europese fracties om een meerderheid te vinden in het Europees Parlement. Terzelfdertijd drukt het goede resultaat van eurosceptici de Europese Unie met de neus op de feiten: een toegenomen deel van de Europese bevolking staat afkerig tegenover het Europees project.
Dat laatste is echter oud nieuws. De massale betogingen, de protestbewegingen en de vele verkiezingsnederlagen van traditionele partijen hadden al lang aangetoond dat een groeiende groep van de bevolking ontevreden is over het gevoerde beleid. Het is logisch dat die ontevredenheid zich ook richt tegen de Europese Unie, die voordien reeds niet bijzonder populair was.
Spiegel
Maar, en het is deze maar die belangrijk is, de grotere vertegenwoordiging van eurosceptici in het Europees Parlement hoeft niet als uitsluitend negatief te worden aanzien. Het zorgt er namelijk voor dat het Europees Parlement de kans krijgt om een betere afspiegeling van de Europese bevolking te zijn. De voorbije jaren werd het Europees Parlement vaak verweten opgegaan te zijn in een wereldvreemde EU-bubbel die de voeling met de burger verloren heeft. De critici vonden in essentie dat het Europees Parlement niet in staat was om de Europese burgers te vertegenwoordigen.
De Europese verkiezingen hebben hier tot op zekere hoogte verandering in gebracht. De opkomst bleef inderdaad (te) laag. Slechts 43,1 % van de kiezers heeft zijn of haar stem uitbracht, een zeer lichte stijging ten opzichte van de vorige Europese verkiezingen. Ondanks die lage opkomst vormt het nieuwe Europees Parlement nu wel ontegensprekelijk een betere afspiegeling van de Europese samenleving. Als het Europees Parlement in de toekomst verweten wordt de burger niet te vertegenwoordigen, zal die kritiek minder terecht zijn. De Europese burger heeft zich van 22 tot 25 mei uitgesproken en het nieuwe Europees Parlement met zijn grotere groep eurosceptici is daarvan het resultaat.
Een nieuwe kans
Hopelijk tonen die eurosceptische parlementsleden enige werklust in het Europees Parlement, zodat ze hun stem ook effectief laten horen. Zo zouden de diverse visies over Europa daar wel degelijk aan bod komen. Voor de Europese democratie is het immers noodzakelijk dat de burgers die afwijzend staan tegenover de Europese Unie ook op een voldoende manier vertegenwoordigd zijn in het Europees Parlement. Dit was tot op heden wellicht te weinig het geval.
Laat ons bij dit alles echter niet vergeten dat ondanks de sterke stijging van eurosceptici, de partijen die geloven in het nut van Europese integratie nog steeds een ruime meerderheid van het Europees Parlement uitmaken. Dit zal de Europese instelling hopelijk in staat stellen om de verzuchtingen van de ontevreden kiezers op een positieve manier te behandelen. De samenstelling van het nieuwe Europees Parlement vormt in dat opzicht een uitdaging – maar ook een kans – om te tonen dat de Europese democratie wel degelijk werkt.
(Stijn Verhelst is onderzoeker, EGMONT – Koninklijk Instituut voor Internationale Betrekkingen.)