The slow demise of the ANC: Political change, economic decline, and state of corruption in South Africa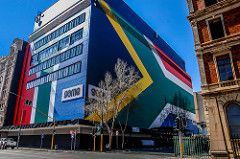 The primary consequence of South Africa's August municipal elections has been the relegation of the once-dominant ANC party to a predominantly rural party that holds onto power through alliances with traditional leaders in rural locations. 
Consequently, the main opposition will now lead frail minority governments in some of the country's largest cities. Over the next year, President Jacob Zuma will face growing opposition from within the ANC party that will seek to prevent him from seizing control over state-owned enterprises in a bid to approve key spending projects and to influence his own succession. He will also face a challenge from ANC leaders to serve out his full second term until 2019.
(Photo credit: Paul Saad, Flickr)