An act of war against Belgium calls for national unity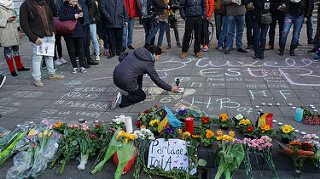 After the Brussels attacks, the country is longing for a positive message. Can a conference of all Belgian democratic parties forge an optimist narrative for the Kingdom, asks Sven Biscop.
This article was first published in De Morgen.
(Photo credit: miguel_discart_photos, Flickr)

*****
Een oorlogsdaad tegen ons land vraagt om nationale eenheid
Wakker gebeld worden in New York, door mijn schoonmoeder in Taiwan, die mijn man en mij vertelt dat er thuis in Brussel aanslagen geweest zijn: dat is mondialisering. De wereldconflicten die worden uitgevochten in onze metro en luchthaven: dat is helaas ook mondialisering.
Onmiddellijk daarna zie ik de stroom van e-mails en sms'en, vooral buitenlandse vrienden die me vragen hoe het gaat. Aan wie ik me haast schaam om te bekennen dat ik veilig op vakantie ben.
Nu moet er iets gebeuren, is mijn eerste gevoel. Ik weet niet precies wat, maar iets. We kunnen nu niet gewoon verder gaan alsof er niets gebeurd is. Maar eens we weer in de straten van New York staan, gaat alles natuurlijk zijn gewone gangetje. Ja, ook hier gingen de vlaggen meteen halfstok. Maar hoeveel New Yorkers weten waarom? En kunnen we hen dat kwalijk nemen als ze het niet weten?
Alle Belgen waren geschokt na de aanslagen in Parijs op 13 november vorig jaar. Parijs, dat is vlakbij en velen van ons zijn er al geweest. Maar zijn we niet erg snel daarna overgegaan tot de orde van de dag? Is er in Frankrijk zelf trouwens fundamenteel iets veranderd? Hebben we overigens bijgehouden hoeveel aanslagen er ondertussen al geweest zijn in Ankara en Istanbul? En nog verder van huis, in Mali, Afghanistan, Pakistan en elders?
Zo 'speciaal' maken de aanslagen ons dus niet. Het maakt ons alleen lid van een club van getroffen steden die helaas al veel leden heeft. En toch blijft het gevoel hangen: speciale gebeurtenissen vragen om een speciale reactie. Misschien zelfs om een reboot van het land, zoals het dinsdag in deze krant heette. Wel, als het dat is wat we willen, gaan we zelf het heft in handen moeten nemen.
We, de Belgen, want van onze politici – in alle partijen – gaat het niet komen of daar ziet het toch vooralsnog niet naar uit. In plaats van een reboot hebben ze het gebruikelijke menu geopend en zijn we meteen in het spel van meerderheid tegen oppositie beland. Ik vrees dat dat spel structureel niet in staat is om de 'speciale reactie' te genereren die ons land nu nodig heeft.
De eerste voorwaarde om iets te veranderen lijkt daarom om uit de gebruikelijke structuren te stappen. Een oorlogsdaad tegen ons land vraagt om nationale eenheid. Kan een conferentie van alle democratische partijen, over het federale, gemeenschaps- en gewestniveau heen, het forum zijn om te beginnen een nieuwe richting te formuleren?
Ook op Europees vlak zijn er trouwens grondige aanpassingen nodig. Na de aanslagen in Parijs legde Premier Charles Michel opnieuw het voorstel van een Europese inlichtingendienst op tafel – en opnieuw werd het van tafel geveegd door andere lidstaten. Het is nochtans evident dat zelfs als ze meer en beter gegevens zouden uitwisselen, 28 inlichtingendiensten – die elk hun eigen ding doen – altijd steken zullen laten vallen. Er is ook nood aan één overkoepelende Europese inlichtingendienst, die één strategie tegen IS kan uitwerken. Defensief, maar ook offensief: om netwerken te infiltreren en uit te schakelen.
Om de urgentie hiervan te onderstrepen, kan de regering de 'Solidariteitsclausule' van de EU inroepen, die de Unie en de lidstaten verplicht bijstand te verlenen na een terroristische aanval. Wel, wij hebben bijstand nodig en wij niet alleen: alleen een werkelijk Europese inlichtingencapaciteit kan uitkomst bieden. Na de aanslagen in Brussel, en liefst met een unaniem mandaat van alle democratische partijen, kan zo'n vernieuwd Belgisch voorstel niet opnieuw zomaar genegeerd worden.
De belangrijkste opdracht ligt echter in België zelf. Het land is moe. Moe van de besparings- en bezuinigingsretoriek die alles overheerst. Moe van de negatieve berichten over alles wat niet werkt en waar zelden iemand verantwoordelijkheid voor opneemt. Het resultaat? Een deel van de samenleving verzuurt nog meer. Een ander deel bereikt stilaan de grenzen van hoe door zelfrelativering en zelfspot, ondanks alles, het optimisme te bewaren. En een aantal, weten we nu, voelt zich überhaupt geen deel van onze samenleving.
Daarom heeft België zo dringend nood aan een positief verhaal. Kan een conferentie van de democratische partijen een toekomstprogramma uitwerken? Ik zou zo graag horen waarin België opnieuw gaat investeren: in infrastructuur, in de steden, in onderwijs, in cultuur. Een project om trots op te zijn. De koning riep ons op om vertrouwen in onszelf te hebben, onze grootste kracht. Ik zou graag vertrouwen hebben dat we deze investeringen in de Belgische en Europese toekomst kunnen doen.
 Prof. dr. Sven Biscop doet aan het Egmont Instituut onderzoek naar Europese strategie en doceert aan de UGent en het Europacollege in Brugge.