Building a capability-driven foundation for Europe's defence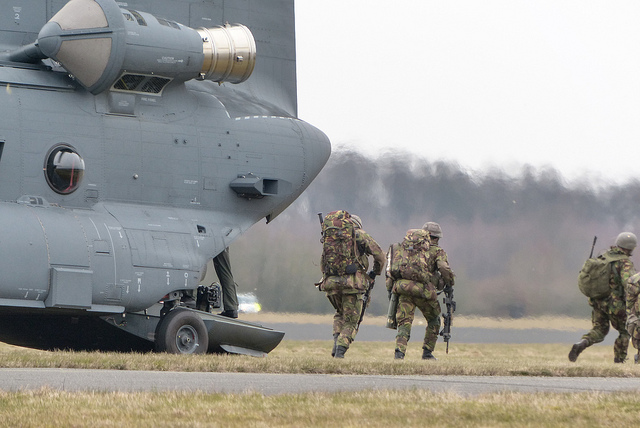 Following up on his intervention at the successful conference on The European Defence of Europe?, which Egmont organized with the support of Raytheon on 6-7 February, Chris Lombardi pleads for missile defence as a key driver of defence cooperation.
(Photo credit: archangel 12, Flickr)
*****
Building a capability-driven foundation for Europe's defence
Following up on his intervention at the successful conference on The European Defence of Europe?, which Egmont organized with the support of Raytheon on 6-7 February, Chris Lombardi pleads for missile defence as a key driver of defence cooperation.
***
In the increasingly complex and uncertain international security environment of recent years, there is a stronger need for pillars of certainty on both sides of the Atlantic. In the face of fracture and turbulence, institutions that foster increased cooperation in the defence community and support proactive engagement on common values are essential. With leaders across Europe now fully aware of this stark new international reality, the challenge for NATO and the European Union institutions is how to step up and take action on this urgent priority.
The past six months have seen a new and serious conversation on genuine burden sharing, joint investment and the growth of the European Union as a security partner, embodied by the recent publication of the EU's Global Strategy and its Defence Action Plan. However, the EU is only one side of the coin, and protection of transatlantic interests in Europe must be based on transatlantic solutions. As the EU seeks to determine its potential to provide for its own defence, strengthening channels for dialogue and cooperation with NATO will not only help the Union to mature as a security actor but also reinforce the transatlantic security architecture as a source of certainty in an unpredictable world.
As such, building the EU-NATO relationship into the framework of a stronger European security architecture should first and foremost be based on establishing platforms for joint action. The most natural opportunity for this is in collective defence from the threats currently affecting Europe's neighbourhood, and missile defence in particular offers an ideal platform to boost security and ensure even closer alignment between the EU and NATO. As a strong deterrent, missile defence is vital in guaranteeing security in a complex European neighbourhood. However, these capabilities should be understood as more than just hard-power assets: from a broader perspective, they are crucial in helping to foster cross-border and inter-alliance initiatives for proactive cooperation and long-term investment at a time in which allied countries are increasingly under both security and budgetary pressures.
As more countries come to rely on the same proven systems across Europe, the idea of a "defence community" refers less and less to a simple alignment of interests or obligations, and increasingly to a true exchange of experiences, expertise and operational capabilities. This model of cooperation – and the practical added value it confers – is perhaps best exemplified today by the Patriot missile defence system, which is actively strengthened by the family of nations which use it. Poland has been the most recent country to express official interest in joining the Patriot community, and its new capabilities will be added to an interoperable network that covers both land and sea, including an array of partners from US Navy forces in the Baltics to Romania and the Black Sea. As the community of users grows, the aggregate total of information available for real-time analysis, assessment and response grows as well, improving effectiveness while allowing maintenance costs to be shared.
Collaborating to test and deploy common missile defence systems is especially relevant in the midst of renewed debate concerning the future of the EU as a comprehensive security and defence actor. Stepping up engagement between European countries on missile defence is a major contribution in itself to collective defence that, as highlighted in the 2016 Warsaw Declaration on Transatlantic Security, has been and remains NATO's most fundamental responsibility. Allied leaders increasingly vocalise support for partnership and complementarity. From national experts to the Secretary General of NATO himself, it is becoming more accepted and expected that the EU can and should contribute to its own defence within transatlantic context.
As defined by NATO, deterrence and defence is based on a mix of three systems: nuclear, conventional, and missile defence capabilities. With EU nuclear capability not under discussion and the high political and financial costs of serious conventional forces, missile defence offers the best opportunities for cost-effective, collaborative ventures in research, development, investment and deployment that will safeguard society.
It also represents arguably the single strongest pillar of NATO's existing defence architecture for bridging NATO and the EU. By employing interoperable systems and reinforcing long-standing transatlantic industrial partnerships, European countries have already begun creating an informal security community around missile defence with substantial institutional knowledge and experience. Adding to NATO's strong organisational and operational framework and the EU's previously untapped political and economic backing for defence cooperation and capability development, European allies have the opportunity to make meaningful strides towards guaranteeing security and stability. What's more, by relying on capabilities which are already developed, tested and utilised by a number of Member States and NATO allies, the time scale for real results collapses dramatically. With a growing, effective community already in existence, joint initiatives can be launched quickly, as opposed to requiring decades.
The constantly changing geopolitical environment in Europe requires effective, responsive, tried-and-true defence capabilities that provide both security and added value above and beyond the physical mechanisms. The interactions between countries and allied militaries based on common capabilities such as missile defence strengthen both pillars of "collective defence", ensuring that it is effective and truly collective. The stronger sense of unity which is fostered as a result can serve as a valuable buffer amidst the turbulence of the broader international security context, and the joint exercises and drills made possible by interoperable systems improve coordination and response time, and ensures maximum return on investment.
Ensuring that the transatlantic relationship remains at the heart of Europe's security architecture and that common defence capabilities such as missile defence remain at the heart of future EU-NATO cooperation will increase the resilience of states and communities.  As a key component of the security architecture in deterrence as well as defence, these capabilities offer both a platform for cooperation and EU-NATO growth as well as a source of certainty in an uncertain world.
Chris Lombardi, Vice President, Raytheon European Business