F-35 best choice for national security strategy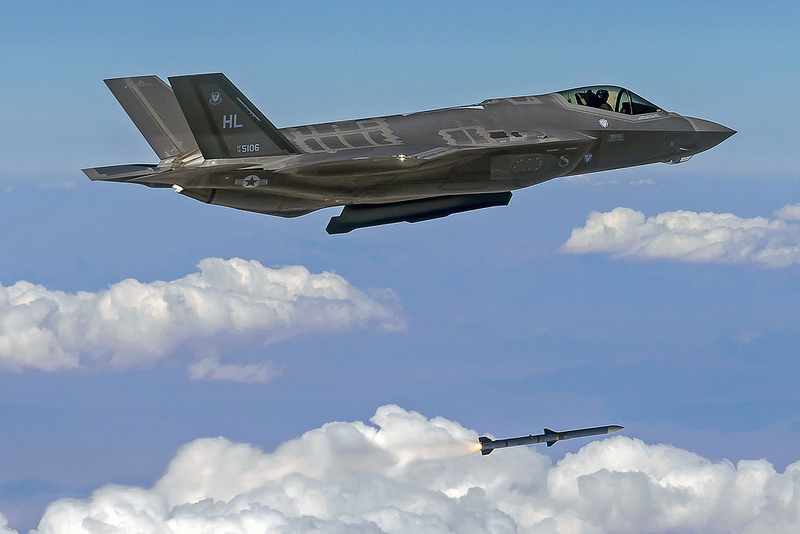 The replacement of the F-16 fighter plane by the American F-35 fits seamlessly into the new version of a Belgian national security strategy. For various reasons, the replacement of the F-16 has become a symbol. Will Belgium continue to have a powerful defense in the future? How does the choice of a replacement redefine the diplomatic position of our country on the world stage? To what extent can the Belgian business sector benefit from this high-tech investment?
This commentary was first published in De Tijd.
(Photo credit: U.S. Department of Defense Current Photos, Flickr)
*****
F-35 beste keuze voor nationale veiligheidsstrategie:
Om verschillende redenen is de vervanging van de F-16 een symbooldossier geworden. Blijft België in de toekomst beschikken over een slagkrachtige defensie? Hoe herdefinieert de keuze voor een vervanger de diplomatieke positie van ons land op het wereldtoneel? In welke mate kan het Belgische bedrijfsleven mee profiteren van deze hoogtechnologische investering?
Nu de F-35 de competitie gewonnen heeft, beseffen we ten volle de strategische reikwijdte van deze beslissing. De regering toont dat ze ook de moeilijkste knopen kan doorhakken, en daarbij oog heeft voor het nationale belang en de lange termijn.
Het uitgangspunt van het F-16-dossier was eenvoudig: het kroonjuweel van de Belgische defensie diende conform het regeerakkoord van 2014 vervangen te worden door een zo performant mogelijke opvolger, zo goedkoop mogelijk en met een maximale participatie van de Belgische bedrijven. Bij het selectieproces werden criteria zoals het vervullen van een eventuele nucleaire opdracht – die ontegensprekelijk van politiek-strategisch belang is, maar tevens de competitie sterk zou beperken – niet weerhouden. Wat telde, waren louter de kwaliteit van het toestel en de bijbehorende ondersteuning, de prijs en de bijdrage ervan aan de essentiële veiligheidsindustriële belangen, goed voor respectievelijk 57, 33 en 10 procent van de eindscore.
Het beste bewijs dat deze publieke aanbesteding een echte competitie heeft losgeweekt, is het feit dat twee kandidaten scherpe offertes hebben ingediend, en een derde kandidaat buiten competitie alsnog hoopte mee te dingen naar het nieuwe 'contract van de eeuw'.
Na een grondige analyse van de offertes geeft de Belgische regering de voorkeur aan de F-35, een logische beslissing. Vooreerst biedt de F-35 grote technologische voorsprong. Daarom scoort dit toestel inzake operationele capaciteiten het hoogst. Aangezien de F-35 geleidelijk het referentiewapensysteem wordt van zowel de Amerikaanse luchtmacht als van de meeste Europese bondgenoten, garandeert de beslissing dat België over een luchtmacht eerste klasse blijft beschikken.
Door de grote schaal van het F-35-programma (waaraan onder meer Italië, het Verenigd Koninkrijk, Nederland, Noorwegen en Denemarken deelnemen) zakt de prijs per toestel fors. Daardoor zou de Belgische aankoop aanzienlijk goedkoper uitvallen dan begroot.
Tot slot heeft de competitie de gewenste industriële resultaten opgeleverd. De Amerikaanse regering zag zich genoodzaakt Belgische bedrijven economisch maximaal te betrekken. Conservatieve schattingen situeren die economische participatie op ruim 3 miljard euro, ongeveer het aankoopbedrag. De participatie wordt daarenboven evenwichtig gespreid over de drie regio's om het hoogtechnologische weefsel zo diep mogelijk te verankeren: 50 procent voor Vlaanderen en 50 procent voor Wallonië en Brussel.
Ontwikkelingskosten
Net als ongeveer elk nieuw militair vliegtuig ondervond de F-35 tijdens de ontwikkelingsfase technische problemen. De Amerikaanse regering zou de ontwikkelingskosten voor België integraal afschrijven. Zo koopt België een model met hogere technische maturiteit (Block 4), tegen een lagere kostprijs.
Met de aankoop zet de Belgische regering onze zeventig jaar oude strategie van brede internationale verankering voort. Onze diplomatie steunt op ons lidmaatschap van de Verenigde Naties, op onze positie als bondgenoot in de NAVO en op onze voortrekkersrol in het Europese integratieproces. Die succesformule komt echter niet gratis tot stand. Wie een internationale stem wil hebben, moet ook verantwoordelijkheid opnemen. De Belgische luchtgevechtscapaciteit is onze voornaamste bijdrage aan de collectieve verdediging van het Europese continent.
Frankrijk
Bovendien gaat deze beslissing hand in hand met de vervanging van de voertuigen van de Belgische landstrijdkrachten en het sterk opdrijven van de militaire rekrutering. Zo zal onze tweede strategische troef, de 'gemotoriseerde capaciteit' te land, ingebed worden in een strategisch partnerschap met Frankrijk, waarvan de Waalse industrie ten volle profiteert.
Er tekent zich langzaam maar zeker een nieuwe versie van onze nationale veiligheidsstrategie af, eentje die zich in alle windrichtingen uitstrekt. Met onze noorderburen werken we aan een diep geïntegreerde marinesamenwerking. Onze landstrijdkrachten gaan met nieuwe voertuigen nauw samenwerken met Frankrijk in het afdekken van de Europese zuidflank. Onze meest fundamentele veiligheidsbelangen verankeren we via de F-35 trans-Atlantisch. Dat maakt ons niet alleen operationeel relevant, het draagt via territoriale verdediging en afschrikking ook bij tot onze nationale veiligheid.
Door al die elementen als een totaalpakket te bekijken kunnen we diplomatiek inzetten op een gezonde dialoog met Rusland, zonder onze bondgenoten in Centraal-Europa in de steek te laten. Door de geografische spreiding van samenwerkingsverbanden kunnen we het Europese continent wellicht ook in de 21ste eeuw veilig en verenigd houden. Daar is het ons toch om te doen?
Prof Dr Alexander Mattelaer is director of European Affairs at Egmont – the Royal Institute for International Relations. He teaches at the Vrije Universiteit Brussel and at the College of Europe.