Ik weet wat quarantaine is. Zie het niet als onrecht en help elkaar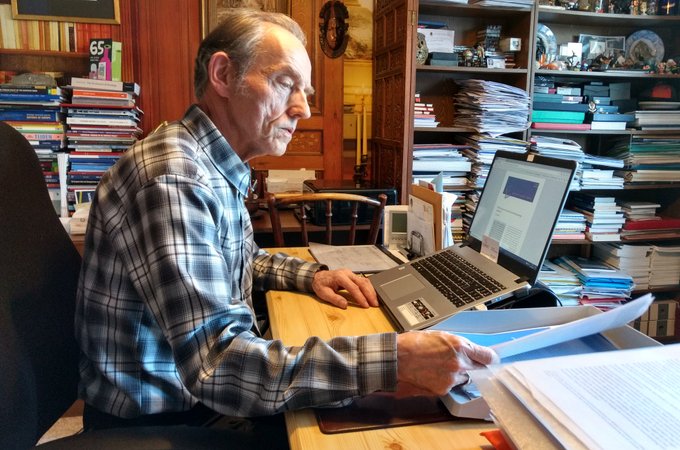 Ik weet wat quarantaine is. Elkaar helpen is de boodschap.
Ik was zeven jaar. Het eerste leerjaar zat er voor mij net op. En plots veranderde alles, van de ene dag op de andere.
This commentary was first published in De Morgen.
Read the full text below in Dutch.
*****
Ik weet wat quarantaine is. Zie het niet als onrecht en help elkaar
Ik weet wat quarantaine is. Elkaar helpen is de boodschap
JO COELMONT is oud-militair en schrijft dit stuk in eigen naam. 
Ik was zeven jaar. Het eerste leerjaar zat er voor mij net op. En plots veranderde alles, van de ene dag op de andere. De wetenschappers ontdekten met een RX-foto dat mijn longen waren besmet. Een 'vlek' vertelden ze mij. Tuberculose dus.
Dat betekende: geen vakantie, wel moest ik onmiddellijk naar een sanatorium. Een langdurige rust in afzondering – best vergelijkbaar met quarantaine – zou mij van tbc verlossen. Volgens de specialisten zouden zes maanden 'wellicht' volstaan. Om geen valse hoop te geven, had niemand mij gesproken over een termijn. Gelukkig maar. Ik diende mij enkel flink te houden, de rug te rechten. Immers, op een dag zou ik terug naar huis gaan. Dat was het perspectief.
In de eerste fase was het regime heel streng. In een grote slaapzaal, die ik deelde met tien lotgenootjes, werd ik aan mijn bed gekluisterd met een lint, net lang genoeg om uit mijn nachttafeltje wat speelgoed of een boekje te kunnen nemen. En ja, ook het 'pispotje'. Elke dag mocht ik het bed driemaal verlaten: voor het ontbijt, het middagmaal en het avondeten. Dat was het nieuwe normaal voor mij. 'Later' zou een soepeler regime volgen. Dat was het perspectief op korte termijn.
Het was niet gelogen. Na drie maanden en opnieuw een RX-foto mocht ik iedere dag een half uurtje buiten spelen. Fijn! Maar het was tevens een verplichting. Intussen was het winter geworden. Ik liep een zware verkoudheid op en dat veroorzaakte een terugval. Mijn verblijf zou hiermee wat langer duren. Ook al omdat kort nadien een uitbraak van 'geelzucht' iedereen in onze slaapzaal besmette. Dat kan gebeuren in een gesloten gemeenschap en je kan het niemand kwalijk nemen. Jammeren helpt dan niet.
Vijf maanden later was er weer goed nieuws. Ik mocht voortaan meerdere uren per dag de zaal verlaten. Twee namiddagen per week kon ik les volgen. In een geïmproviseerd klaslokaal gaf een zeer vriendelijke lerares onderricht aan een vijftiental kinderen , leerlingen van het eerste tot het zesde leerjaar. Na een verblijf van negen maanden mocht ik naar huis.
In het sanatorium was een bezoek enkel toegestaan op zondagnamiddag. Mijn ouders woonden in 'het verre Limburg'. Thuis waren er meerdere kinderen. Een auto was er niet. Om de twee weken kreeg ik bezoek van mijn mama of mijn papa. Ik leerde intens te genieten van ons samenzijn en bij het afscheid uit te kijken naar het volgende bezoek. Ik leerde mij telkens flink te houden, de rug te rechten. Eens terug thuis, was het sanatorium ver weg. Met het coronavirus borrelen nu pas deze herinneringen weer op.
Ik had het eerste en tweede trimester van het tweede leerjaar gemist. De directeur van mijn school heeft mij niettemin laten overstappen naar het derde leerjaar. Om de klasgenoten in één jaar bij te benen, diende ik te knokken. Het volgende schooljaar eindigde ik als vierde van de klas.
Een verblijf in quarantaine geeft je een bijzondere bagage. Studeren, mogen studeren, was voortaan belangrijk voor mij. Op het einde van mijn lager-middelbare studies werd het mij duidelijk dat mijn ouders niet de middelen hadden om universitaire studies te bekostigen. Tijd om opnieuw de rug te rechten. Knokken voor je zelfgekozen perspectief: een universitair diploma. De enige weg die voor mijn open bleef, was om op internaat te gaan in de cadettenschool van het leger. Inderdaad, opnieuw in bijna-quarantaineomstandigheden binnen de hoge muren vertoeven, van de zondagavond tot de zaterdagnamiddag. Ditmaal drie jaar lang.
Het perspectief: met succes het ingangsexamen van Koninklijke Militaire School (KMS) kunnen afleggen om daar een universitair diploma te verwerven. Deze oplossing zou mijn ouders niets kosten. Het was flink knokken in de cadettenschool. De rit uitdoen vereiste ruggengraat en – even belangrijk – onderlinge solidariteit. Hulp geven aan wie het soms wat moeilijker had, was drie jaar lang voor eenieder een evidentie. We hebben bijna allen de eindmeet bereikt. Ook nadien, in de KMS.
Ook nu, in deze coronacrisis ervaar ik al de ongemakken niet als een onrecht dat mij en mijn naasten persoonlijk wordt aangedaan. Schuldigen aanwijzen en tweespalt zaaien helpt ook nu niet, integendeel. Wat nu telt, is een perspectief voor ogen houden en met zelfdiscipline het juiste pad bewandelen, ongeacht de duur.
Ik prijs mij gelukkig dat ik dat op jonge leeftijd al heb kunnen inzien. Maar ik prijs me tevens gelukkig dat zovele anderen die ingesteldheid ook hebben, zonder voorafgaande quarantaine. Elkaar helpen om samen – zonder te polariseren – een rit van 'wellicht nog ? maanden' uit te rijden, is de boodschap.