Replacing the Belgian F16s is but a logical decision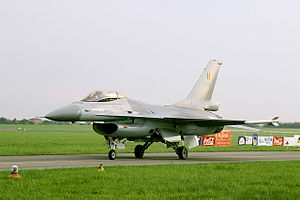 Without armed forces, there are no instruments left when diplomacy fails. To be an effective instrument, all three forces (army, navy and air force) require a combat capability.
This commentary appeared in Dutch on De Morgen on 27 August 2014.
(Photo credit: Wikimedia Commons)
 *****
"De F-16's vervangen is niet meer dan een logische beslissing"
Prof. Dr. Sven Biscop is directeur van het programma 'Europa in de wereld' aan het Egmont – Koninklijk Instituut voor Internationale Betrekkingen in Brussel en doceert aan de Universiteit van Gent. "Een geloofwaardige ontplooibare strijdmacht is het enige instrument waar diplomatie helaas faalt", schrijft hij.
Er is al eens een regeerakkoord geweest waarin men defensie vergeten was. Dat zal deze keer (als de onderhandelaars tenslotte tot een akkoord komen) niet het geval zijn. De princiepsbeslissing om de F-16's te vervangen door nieuwe gevechtsvliegtuigen veroorzaakt heel wat ophef.
Maar waarom zoveel consternatie? Een luchtmacht zonder gevechtsvliegtuigen is als een NMBS zonder passagierstreinen. Alleen nog goederentransport: op papier kan het, in praktijk komt het al snel neer op het einde van de organisatie. En net zoals de treinen van de NMBS moeten gevechtsvliegtuigen op gezette tijden vervangen worden – gelukkig niet zo dikwijls. Dat is inderdaad een grote investering, die over vele jaren gespreid moet worden.
Moet België die investering doen? Wie anders? België is een rijk land. Verwachten wij dat Congo of Mali gevechtsvliegtuigen kopen? De rijkere landen hebben een morele verantwoordelijkheid om meer bij te dragen aan wereldwijde vrede en veiligheid, als de Verenigde Naties daarom vragen. En ze hebben er ook zelf direct belang bij. Europa is een mondiale handelsmacht en heeft nood aan mondiale stabiliteit.
Cash betalen
Vandaag is het zelfs onze eigen omgeving die zeer instabiel geworden is: Mali, Libië, Syrië, Irak, Oekraïne. Europa ondervindt er direct de effecten van, op economisch, politiek en veiligheidsvlak. Bovendien is de tijd voorbij dat de Amerikaanse cavalerie al onze problemen komt oplossen. Voor de Verenigde Staten is er maar een echte strategische concurrent: China. Daar ligt de strategische focus van Washington. Daarom wordt van Europa verwacht dat het, via de Europese Unie en de NAVO, zelf de eerstelijnsverantwoordelijkheid opneemt voor veiligheid in de eigen periferie.
Uiteraard beoogt de EU dat eerst en vooral langs diplomatieke weg te doen. Maar een geloofwaardige ontplooibare strijdmacht achter de hand hebben, verhoogt de slagkracht van onze diplomatie en is het enige overblijvende instrument waar diplomatie helaas faalt. Als een crisis bezworen kan worden door economische sancties op te leggen, des te beter. Of door de troepen van een ander land op te leiden (wat dus al militairen vergt), die dan de eigenlijke operaties zelf uitvoeren, ook prima. Maar laat ons geen illusies maken: dat zal niet altijd lukken.
Als er dan toch een militaire interventie nodig is, moet het Belgisch leger in elk soort operatie (land, zee of lucht, meer of minder risico), een betekenisvolle bijdrage kunnen leveren. Dat geeft de Belgische regering maximale flexibiliteit om in te spelen op een vraag van de VN, de NAVO of de EU. Dat impliceert dat zowel de lucht-, de land- als de marinecomponent minstens één capaciteit moeten behouden die een gevechtsinzet toelaat. Op voorhand een volledige macht, zoals de luchtmacht, non-combattant maken, beperkt meteen de opties waaruit de Belgische regering kan kiezen om bij te dragen.
Het zou ook een zwaarwichtig signaal zijn naar de andere leden van de EU en de NAVO, dat wij niet langer bereid zijn om te delen in de risico's. Zo'n beslissing zou cash betaald worden in andere EU en NAVO-dossiers, waarin België vragende partij is. Op den duur zou ons land alleen nog de beslissingen van anderen ondergaan. Het kan toch niet de bedoeling zijn dat telkens Britten en Fransen alleen beslissen over militaire inzet en de andere landen alleen de keuze hebben tussen meedoen of niet meedoen? Want achteraf dragen ze mee de politieke gevolgen. Wie echt wil wegen op de besluitvorming, moet echter zelf iets aan te brengen hebben.
Partnerlanden
De F-16's vervangen is dus niet meer dan een logische beslissing, die ons ook nog de kans geeft om voort te bouwen aan Europese defensiesamenwerking. Voor het genoemde aantal van veertig toestellen volledig alleen de basis, het onderhoud, de bevoorrading en de opleiding organiseren is totaal inefficiënt. België moet radicaal kiezen om al deze ondersteunende functies ofwel te fusioneren met andere landen, ofwel de taken te verdelen, zoals we dat voor de marine nu al doen met Nederland.
In de volgende stap, de keuze van het toestel, moet de keuze van de partnerlanden dus van in het begin een cruciale factor zijn.
Ten slotte kan het toekomstige regeerakkoord simpelweg een niet uitgevoerde bepaling uit het vorige akkoord overnemen: een nieuw strategisch plan voor defensie. Alle componenten hebben voortdurend behoefte aan de modernisering van het materiaal. Een totaalvisie is nodig, die duidelijk stelt wat de politieke overheid als ambitieniveau voor de Belgische krijgsmacht ziet. En die de budgettaire stabiliteit garandeert die defensie toelaat om die ambitie op lange termijn waar te maken.

The copyright of this commentary belongs to the Egmont Institute. It can be quoted or republished freely, as long as the original source is mentioned.?