Yes, NATO is obsolete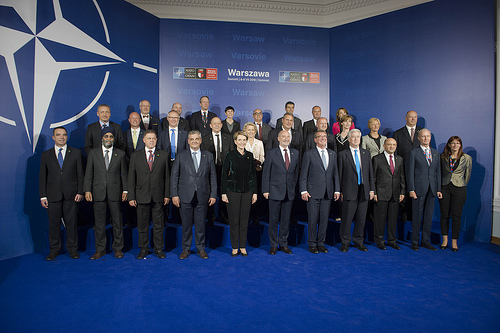 An Alliance whose credibility mostly depends on a single member cannot be maintained. Only an autonomous Europe can define its interests and choose with whom it can cooperate to defend them, in full flexibility.
This commentary was first published in De Morgen.
(Photo credit: Secretary of Defense, Flickr)
*****
Ja, de NAVO is voorbijgestreefd
Sven Biscop is directeur van het programma 'Europa in de wereld' aan het Egmont Instituut in Brussel en professor aan de Universiteit Gent.
De NAVO is voorbijgestreefd, zegt Trump, en hij heeft nog gelijk ook. Een alliantie die vooral steunt op één lid, de VS, is onhoudbaar. Europa moet werk maken van wat het al lang aankondigt: een geïntegreerde EU-defensie, die ook als Europese NAVO-pijler dient. Anders blijven we ten eeuwigen dage afhankelijk van de VS. Maar zoals Lord Palmerston in de 19de eeuw al zei: er zijn geen eeuwige vrienden of vijanden – alleen eeuwige belangen. Dat heeft Trump wel heel duidelijk gemaakt: America First. Bondgenoten komen in zijn verhaal alleen voor wanneer hij ze aanspoort meer te betalen.
Terwijl Trump twijfel zaait over de NAVO, zaait een assertieve Poetin twijfel over zijn intenties. Europa mag van geluk spreken dat de 750.000 Russische soldaten in nog slechtere staat zijn dan de 1.500.000 (!) Europese. De elitetroepen die we aan het werk zagen op de Krim zijn de punt van de speer; de schacht is eerder vermolmd. Maar dat blijft niet duren, want Rusland investeert volop, terwijl Europa ter plaatse trappelt. Als de Russische militaire agressie zich niet rechtstreeks tegen ons richt, is dat niet omwille van onze mooie ogen, wel omdat Poetin weet dat hij een confrontatie vandaag niet aankan. Daarom blijft afschrikking, met conventionele én nucleaire wapens, de kern van onze defensie.
Intimideren
Maar ook los van het militaire machtsevenwicht heeft Poetin geen belang bij directe agressie tegen Europa. Hij focust niet op ons, maar op de landen tussen Rusland en de EU/NAVO in. Aan ons om te beslissen wat onze belangen zijn in bijvoorbeeld Oekraïne en waartoe we bereid zijn om die te verdedigen. Het Russische spierballengerol is er vooral op gericht ons te intimideren en uit elkaar te spelen. Poetin gaat altijd net ver genoeg om ons uit evenwicht te brengen, maar niet zo ver dat hij een drastische tegenreactie uitlokt. Daarvoor is de Russische economie veel te afhankelijk van de energie-export naar Europa. Die sector houden Brussel en Moskou bewust buiten de sancties, want de wederzijdse afhankelijkheid is te groot.
Poetin tast de grenzen af van hoe ver hij kan gaan. Trump kent geen grenzen (behalve die tussen de VS en Mexico, waar hij een muur gaat bouwen). Hij ligt op ramkoers met China, door het één-Chinabeleid in vraag te stellen en een handelsoorlog in het vooruitzicht te stellen. Tegelijk ondermijnt hij door het Trans-Pacific Partnership teniet te doen zijn eigen bondgenoten in Azië, zodat ze nog meer aangewezen zullen zijn op… China. Hij ligt op ramkoers met Iran, een van de zeven landen waartegen een algemeen immigratieverbod werd afgekondigd. Zonder samenwerking met Iran kan er geen einde worden gemaakt aan de instabiliteit in het Midden-Oosten, waarin de echte vijand gedijt, die ook Trump zo benoemt: IS. Hij ligt potentieel op ramkoers met de hele wereld, omdat hij door kortzichtig protectionisme een wereldwijde economische crisis dreigt uit te lokken.
Autoritair regime
Trump kent de grenzen van zijn ambt niet, noch die van het fatsoen. Alle problemen zijn de schuld van buitenlanders, Amerika heeft de wereld niet nodig, en wie het met hem niet eens is, is een slechte Amerikaan. Vervang Amerika door Rusland en het leest als Poetin. Omdat het over de VS gaat, proberen we hardnekkig om argumenten voor het tegendeel te vinden, maar dit zijn de klassieke voortekenen van een autoritair regime.
Trump, Poetin, en vergeet Xi Jinping niet: de vraag is niet wie de grootste bedreiging is. De vraag is: wat zijn de Europese belangen, en met wie, inclusief de VS, Rusland en China, kunnen we samenwerken om die te verdedigen, flexibel en in volle autonomie?