A Belgian army for European defence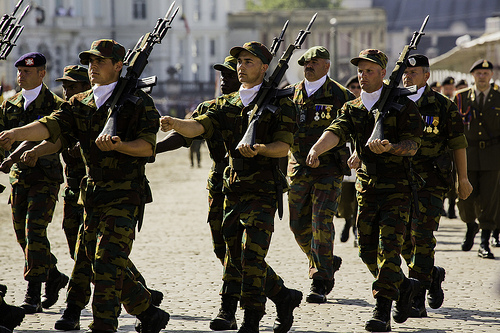 Sven Biscop outlines a realistic but real ambition for the Belgian armed forces. The key though is long-term budgetary stability.  This article is available in Dutch only.
This commentary appeared in De Morgen, 8 April 2015, under the title: Zonder budgettaire zekerheid voor het Belgisch leger is er geen zekerheid tout court.
(Photo credit: saigneurdeguerre, Flickr)
*****
Zonder budgettaire zekerheid voor het Belgisch leger is er geen zekerheid tout court
Sven Biscop is directeur van het programma 'Europa in de wereld' aan het Egmont – Koninklijk Instituut voor Internationale Betrekkingen in Brussel. Hij doceert aan de UGent.
Stel, je krijgt 180 miljard euro (zoveel geven de 28 EU-landen samen jaarlijks uit aan defensie) met als opdracht: verzeker de defensie van Europa. Dan zou je natuurlijk één Europees leger bouwen, geen 28 aparte. Het recente pleidooi van Commissievoorzitter Jean-Claude Juncker voor een Europees leger is dus in principe juist. Maar het is zoals met die man die verdwaald is op het platteland en aan een boer de weg naar de hoofdstad vraagt. Antwoord: "Ik zou niet van hier vertrekken." Maar we zijn wel hier, natuurlijk, en we hebben nu eenmaal 28 legers, waaronder dus ook het Belgische.
Minister van Defensie Steven Vandeput (N-VA) wil nu dat ons leger méér doet en wil daar ook extra budget voor, zo berichtte de pers op basis van (alweer) een gelekte nota. Is dat wel nodig, als we nu al zoveel aparte land-, zee- en luchtstrijdkrachten hebben in Europa? En ons grondgebied wordt toch niet bedreigd?
Neen, Poetin zit in het Kremlin niet over de kaart van België gebogen. Maar het zijn wel Belgen die gaan vechten voor de zelfverklaarde Islamitische Staat en zelfs hier aanslagen beramen, het zijn ook Belgische schepen die aangevallen worden door Somalische piraten, en het is onze handel die stilvalt in landen in oorlog, om te beginnen rondom Europa. Het Belgisch leger alleen zal daar natuurlijk geen antwoord op bieden, maar het moet wel een deel van de Europese en/of NAVO-oplossing zijn.
Met een serieuze gevechtscapaciteit in zowel land-, lucht- als marinecomponent, zodat elke Belgische regering aan elk type operatie waaraan ze wil bijdragen, effectief kán bijdragen. Verdere specialisering is niet de toekomst – ons leger heeft al maar een beperkte waaier van capaciteiten. Die kunnen we op een kostenefficiënte manier behouden door radicaal te kiezen om de ondersteuning (onderhoud, bevoorrading, opleiding enzovoort) volledig te integreren met partnerlanden, zoals we dat in de marine al doen met Nederland. Om die marinesamenwerking voort te zetten, moeten we samen met Nederland nieuwe fregatten aankopen. De opvolger van de F16 kan op dezelfde wijze ingebed worden in samenwerking met bijvoorbeeld Nederland of Frankrijk – van die keuze hangt uiteraard de keuze van het toestel af (in casu de F35 of de Rafale).
Minder voor de hand liggend is waarop de landcomponent zich moet concentreren en wie de geprefereerde partnerlanden zijn. Ook de inzet van grondtroepen ligt politiek meestal veel moeilijker, zeker voor gevechtsopdrachten. Dat is de motivatie van onze eenheden niet ten goede gekomen. Het is belangrijk een realistische maar reële ambitie voor onze landcomponent vast te leggen, die binnen onze middelen betekenisvolle operaties mogelijk maakt, ook in meer risicovolle situaties indien nodig. En dat daarbij de elitestatus en de korpsgeest van eenheden zoals de paracommando's niet verloren gaat.
Wanneer de bedreigingen veranderen, moeten onze capaciteiten zich aanpassen. De nadruk op cyberdefensie en zelfs offensieve cybercapaciteiten die in de media naar voren kwam, is dan ook logisch. We moeten ons daar niet per se een heuse cybercomponent bij voorstellen, wel een leger dat de cyberdimensie integreert in alle eenheden en operaties en nauwe samenwerking zoekt met andere Belgische departementen en met Europese partners.
Ook special forces passen in dit plaatje. Een punctuele inzet van zulke troepen kan grote effecten hebben. Meer dan we ons bewust zijn, hebben de Belgische special forces hun expertise bewezen en worden ze door de zustereenheden in onze buurlanden als gelijkwaardige partners beschouwd. Hier kan een aparte special forces-component wel nuttig zijn, want de inderdaad speciale aard van deze operaties vereist een zeer korte commandoketen en een heel eigen uitrusting, anders dan de rest van de landcomponent.
Kan België zich dat allemaal veroorloven? Niet met het huidige, ingekrompen defensiebudget. Op zijn minst had het defensiebudget gestabiliseerd moet worden (rond de 1 procent van het bbp). Blijkbaar wordt er zelfs gedacht aan een evolutie naar het Europees gemiddelde (1,5 procent van het bbp). Dat lijkt veel, maar in de jaren 80 was het nog meer dan 3 procent. Dat de factuur naar de volgende regeringen wordt doorgeschoven, wordt er geklaagd. Maar dat is toch de essentie van investeren: je neemt nu een beslissing voor de lange termijn, die je over de lange termijn financieert – anders kun je je helemaal géén investeringen permitteren. Het allerbelangrijkste is dat voor één keer deze budgetten, als de regering erover zou beslissen, niet achteraf weer ingekort worden. Zonder budgettaire zekerheid is er geen zekerheid tout court.