Putin is not such a brillant strategist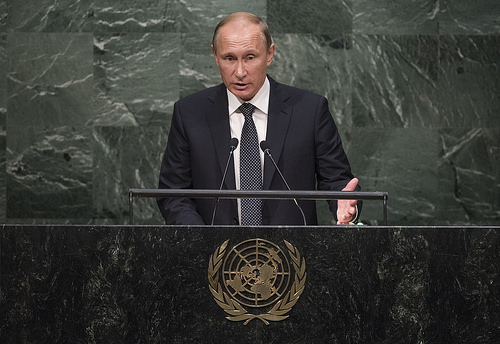 Putin may be a master tactician, but a sober analysis of the outcome of some of his recent decisions show him to be an apprentice strategist (in Dutch).
This article has been published in De Morgen, 30 Sept. 2015.
(Photo credit: United Nations Photo, Flickr)
*****
Zo'n briljant strateeg is Poetin niet
Sven Biscop doceert Belgisch en Europees buitenlands beleid aan de Universiteit Gent en doet aan het Egmont Instituut onderzoek naar Europese strategie. 
Dat heeft Poetin toch weer mooi klaargespeeld. In zijn toespraak op de Algemene Vergadering van de Verenigde Naties afgelopen maandag stelde hij aan de VS een coalitie tegen IS voor, terwijl zijn troepen natuurlijk al in Syrië zijn. Dat maakt van Rusland een onoverkomelijke partner voor iedereen die een oplossing wil vinden voor de uitzichtloze burgeroorlog. Tegelijk verzekert Poetin het overleven van Assad en zijn regime, want behalve IS zal niemand hem nu nog militair aanpakken.
Maar is de Russische president echt zo'n briljant strateeg? Een nuchtere analyse van het resultaat van zijn recente beslissingen toont een ander beeld.
Keren we even terug naar eind 2013. In Oekraïne was het al lang duidelijk dat de machtsbasis van de vorige president, Janoekovitsj, erg wankel geworden was. Toch bleef Rusland hem, en enkel hem, tot het laatste moment steunen. Ofwel overschatte Poetin de macht van Janoekovitsj, ofwel zag hij geen alternatief om de Russische belangen te vrijwaren. Toen Janoekovitsj vorig jaar het land ontvluchtte en de oppositie tegen hem aan de macht kwam, die dan natuurlijk bij de westelijke buren om steun zocht, verloor Rusland in een klap al zijn invloed.
Daarop volgde een Russische overreactie: eerst de invasie en annexatie van de Krim, dan directe militaire steun voor separatistische rebellen in Oost-Oekraïne. Met welk einddoel voor ogen? Dat was wellicht niet echt gedefinieerd, maar het resultaat tot nu toe is duidelijk. Wellicht een nieuw "bevroren conflict", dat inderdaad nog jaren kan aanslepen, en dus een verzwakt Oekraïne – dat echter wel noodgedwongen naar het westen kijkt, veel eensgezinder dan voor Poetins ingrijpen. En economische sancties die samen met de lage energieprijzen de Russische economie hard treffen. Gelukkig voor Poetin heeft Europa de Russische energie evenzeer nodig als Rusland de energie-inkomsten, zodat de sancties die markt niet treffen.
Poetin heeft zichzelf echter klemgereden. Hij had aan zijn bevolking al geen rooskleurige economische vooruitzichten te bieden, vandaar de vlucht vooruit in nationalisme en krachtpatserij. Waardoor de economie nog dieper in het slop zit en Poetin nog meer de nationalistische kaart moet trekken om zijn populariteit in stand te houden – en een compromis dat aan de sancties een einde zou maken dus uitgesloten is.
In Syrië dreigde eenzelfde scenario. Door hardnekkig vast te houden aan een vazal die elke legitimiteit verloren had, en bijna ook de macht, stond Rusland op het punt ook in Syrië zijn invloed te moeten prijs geven. Alleen heeft Poetin geluk dat het westen en de landen van de regio IS een veel grotere bedreiging vinden dan Assad. Assad, dit goed inschattend, heeft IS?natuurlijk zelf grootgemaakt door de andere oppositiegroepen aan te vallen en IS aanvankelijk de vrije loop te laten.
Het resultaat zal wellicht een compromis zijn: een wapenstilstand met de rest van de oppositie, concentratie van de militaire actie tegen IS, en een machtsdeling waarbij Assad althans voorlopig aan de macht blijft. Wellicht houdt Rusland eigenlijk niet zozeer aan zijn persoon vast als wel aan zijn regime, dat het deel wil blijven zien uitmaken van de macht, om zijn belangen te vrijwaren.
Is dat een Russisch succes? Het is eerder de sluwheid van Assad die de omstandigheden heeft gecreëerd waarin Poetin zijn kaarten kon uitspelen. Anders was het nog maar eens een illustratie geweest van hoe Poetins beslissingen successen, maar ook zware kosten, op korte termijn creëren, zonder duidelijk voordeel op lange termijn. Dat heet tactiek, geen strategie.
Het toont wel aan dat Rusland vooralsnog niet geïnteresseerd is in een constructieve relatie met het westen, hoewel zeker de Europese Unie nog steeds een goede nabuurschapsrelatie nastreeft. Poetin flirt in de plaats met China, maar ook dat is korte termijn-denken. In wezen hebben Rusland en China tegengestelde belangen, zoals bijvoorbeeld de groeiende Chinese aanwezigheid in Centraal-Azië, en zelfs in Siberië, illustreert. Maar het is voor Poetin veel minder gevaarlijk zich het aura van een grootmacht aan te meten door Europa te irriteren. Hij weet zeer goed dat Europa een zeer beleefd gezelschap geworden is, dat niet meer in termen van "oog om oog, tand om tand" redeneert. Aan de Chinese grens zal hij zulke spelletjes niet spelen.
Toch zullen Europa en de VS met Rusland blijven samenwerken waar het moet en kan (zoals in het Iraanse nucleaire dossier). Relaties met de grootmachten worden altijd "gecompartementaliseerd": een dispuut over het ene dossier sluit samenwerking over een ander niet uit. Hopelijk ziet Rusland ook zelf in dat het baat heeft bij partnerschap met Europa en de VS. En beseft Poetin dat zijn vergelijking van de coalitie tegen de IS met die tegen Nazi-Duitsland beter niet opgaat: dat er deze keer op het einde van de oorlog geen koude oorlog volgt.