Rather no government of technocrats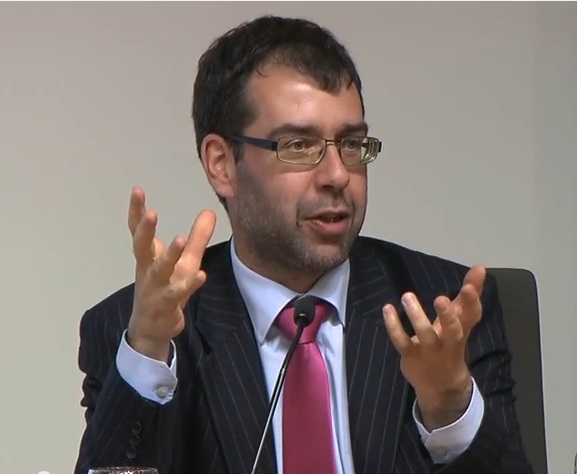 The "De Morgen" Newspaper chose Sven Biscop as defence minister in a hypothetical government of technocrats for Belgium. But Belgian and EU policy needs to become more political, not more technocratic, he argues.
This commentary appeared in De Morgen on 17 April 2015 (in Dutch).
(Photo credit: Egmont Institute)
*****
Ik vind de regering-De Grauwe I helemaal geen goed idee
Prof. dr. Sven Biscop is verbonden aan de Universiteit Gent en vooralsnog geen minister.
Ik ben De Morgen natuurlijk dankbaar om mij gekozen te hebben als minister van Defensie in haar ideale regering van technocraten (DM 13/4). Ook al vraagt mijn man me sindsdien: "Zou meneer de minister niet stilaan aan de afwas beginnen?" (hij is namelijk de kok).
Toch vind ik een zakenkabinet eigenlijk helemaal geen goed idee. Twee proffen kunnen allebei expert zijn in dezelfde materie en dan op basis van hun analyse van dezelfde gegevens toch tot totaal tegengestelde beleidsvoorstellen komen. De politieke keuze, de ideologische stellingname (mag dat woord nog gebruikt worden?), komt namelijk eerst. Dan pas kan de expertise aangewend worden om de gekozen politieke doelstellingen te bereiken.
Het omgekeerde leidt tot problemen. Het beste voorbeeld hiervan is het antwoord van de Europese Unie op de crisis in de eurozone (waarover de uitverkoren premier van De Morgen, Paul De Grauwe, meermaals zijn beklag heeft gedaan). Dat antwoord werd aanvankelijk voorgesteld als een louter technische kwestie, alsof er maar één medicijn bestond en het er enkel op aankwam het de onwillige patiënt te doen slikken. Dat was natuurlijk quatsch: het ging hier niet om exacte wetenschap, maar om een cruciale politieke keuze, om de euro te redden met respect voor de welvaartsstaat of niet. Zogezegd objectieve wetenschappelijke of technocratische argumenten dienden alleen maar om de politieke keuze voor die laatste, rechtse optie te maskeren.
Pas toen François Hollande tot president verkozen werd, kwam er op het hoogste beleidsniveau een beetje tegengewicht voor het besparingsdiscours van Angela Merkel en kregen we weer een echt links-rechtsdebat. Alleen was er toen onder het mom van technocratische oplossingen al heel wat schade aangericht, waardoor de EU heel wat legitimiteit heeft verloren. De Europese Commissie geeft dat nu ook min of meer zelf toe.
Dit voorbeeld toont dus ook aan dat ideologie, in tegenstelling tot wat velen beweren, er wel nog steeds toe doet. In zijn meesterwerk Postwar, over de geschiedenis van Europa sinds de Tweede Wereldoorlog, concludeerde de Britse historicus Tony Judt: de essentie van Europa is ons sociaal model. Dat staat omwille van de crisis onder zeer grote druk. Maar de welvaartsstaat is na de oorlog precies uitgebouwd om in zulke crisistijden een buffer te hebben tegen de lokroep van 'de sterke man'. Krugman, Piketty, Wilkinson en anderen wijzen op gelijkheid als de sleutel tot een gelukkige samenleving. Als dit geen links-rechtse tegenstelling is…
Uiteraard maakt beleid beter gebruik van de beschikbare expertise, aan onze universiteiten en elders. Maar het beleid moet vooral méér politiek zijn, niet minder. Hoe duidelijker de politieke doelstelling, hoe klaarder het maatschappelijk debat en hoe beter de ambtenaren het beleid nadien kunnen uitvoeren. Waar wij academici wel een specifieke rol te spelen hebben, is in het bevorderen van de intellectuele eerlijkheid. Zeggen wat men echt nastreeft en wat daarvoor de echte reden is, zonder camouflage: we horen het in het politieke debat niet altijd.
Wie hieraan als academicus wil bijdragen, heeft heel wat mogelijkheden en één grote luxe: de vrijheid om op basis van de eigen expertise altijd te zeggen wat men denkt. Ook en vooral als een professor zich engageert in een politieke partij – wat veel vruchtbaarder is dan er zelf een proberen oprichten.